THE ULTIMATE EXPERIENCE
CAIRNS BOATING SPECIALISTS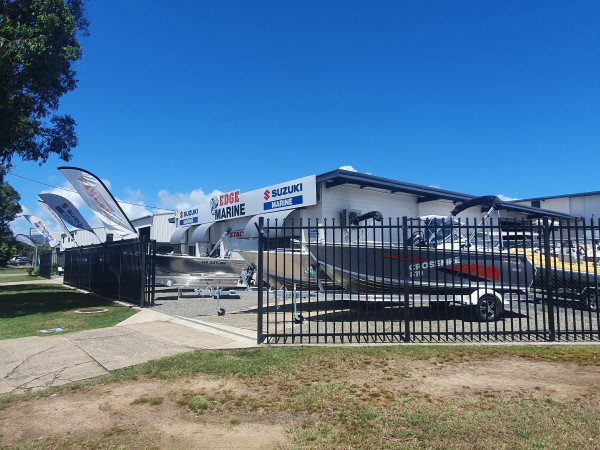 Why Edge Marine Is Cairns' Favourite Boating Supply Store
Cairns city is fortunate to have a prime location right next to the water, where we can enjoy crystal clear oceans, some of the world's finest beaches, and access to the Great Barrier Reef.
However, it also means there are a lot of boats and a lot of boating supply stores.
With so much choice, why is it that Edge Marine continues to be Cairns' favourite marine boat shop? We've got a few ideas as to why people keep choosing Edge Marine.
We Know Cairns!
We've been working within the Cairns area for over 25 years in the marine industry, and we love every part of it.
We've accrued many loyal customers who trust us with their boats, outboard motors, and rely on us to provide informed recommendations and suggestions.
We also love having the locals pop in for a chat about their latest fishing trips and weekends away out on their boats.
We're proud to be Cairns' premier boating supply store.
We Know Boats And Motors
Edge Marine has over 25 years of experience in the marine/mechanical industry. Our marine technicians are qualified to conduct a wide range of mechanical services such as;
Unparalleled knowledge and understanding of Suzuki outboard motors. Whether you're looking to buy, upgrade, or have your outboard motor serviced, Edge Marine boat shop specialises in all things Suzuki. We're Suzuki Marine's authorised sales and service dealer for the Cairns region, so we're your one-stop-shop boating supply store for all things Suzuki.
Repairs and services on a range of outboard motors. Edge Marine have experience in providing services for Mercury, Tohatsu, Yamaha, Honda, Yanmar, Volvo Penta, Mercruiser, and more. If you have an issue with your outboard motor, bring it in, and we'll have a look.
Inspections. We can conduct checks on any brand of hull or motor.
We'll run diagnostics. No matter what make or model of outboard motor you own, can run diagnostics to find any issues.
Timely, helpful advice. Whether it's advice on servicing, buying a new boat, or which GPS you should get, our technicians pride themselves on providing tailored advice to each customer.
Top-notch customer service. When you're a customer of Edge Marine, you're part of the family. We're a boating supply store that believes in the power of old-fashioned, one-on-one customer service.
The Ultimate Experience
As Cairns' favourite boating supply store, we cater to all boaties, big or small, new to boating or have been boating for years! At Edge Marine boat store, we…
Stacer Boats. We specialise in selling Stacer boats. With a massive range of 74 models of Stacer boats, we can assure you will get just the right package to suit your needs and lifestyle.
Suzuki outboard motors. Whether you're in the market for high performance, mid-range, or portable outboard motors, we have a wide range of Suzuki motors from which to choose. We also sell second-hand outboards for those looking for a steal.
Oceanic Trailers. Our range of Oceanic boat trailers covers every type of watercraft, including tinnies, alloy and fibreglass fishing, and leisure boats.
Marine accessories. Edge Marine's boating supply store stocks all kinds of marine accessories from chandlery, maintenance items, chart plotters and GPSs through to boat lights and engine covers.
We'll Come to You
You're busy, and we get that. That's why we offer our customers the option for mobile marine services.
We can remotely perform outboard motor servicing, inspections of hulls and outboards, and run diagnostics for the majority of makes and models.
Our mobile servicing option is available across the Cairns area including:
Trinity Beach, Holloways Beach, Yorkeys Knob, Ellis Beach, Tablelands, Bamaga and Thursday Island and its neighbours.
Book A Service Today
Regardless of the make and model of your outboard motor, our technicians at Edge Marine boating store are qualified to provide a comprehensive service.
Edge Marine are proud to be Cairn's premier Suzuki dealership and boating supply store.
Contact us today to book your service or enquire further about our products.